Shopping in the Basque Country
If you have are tired from the beach or a rainy day, there are nevertheless some possibilities to spend time with shopping. The shops in Saint Jean de Luz are also open on Sundays. In nearby Spain, there are two larger shopping centers open until 10 pm (Monday - Saturday).
Saint Jean de Luz
The pedestrian zone in Saint Jean de Luz is really a feast for the eyes and the shops are also open on Sundays. The market in Saint Jean de Luz with many regional specialties and of course fresh fish is a pleasure for the eyes and senses. The market hall is open every morning. On Mondays and Fridays there is also a market outside.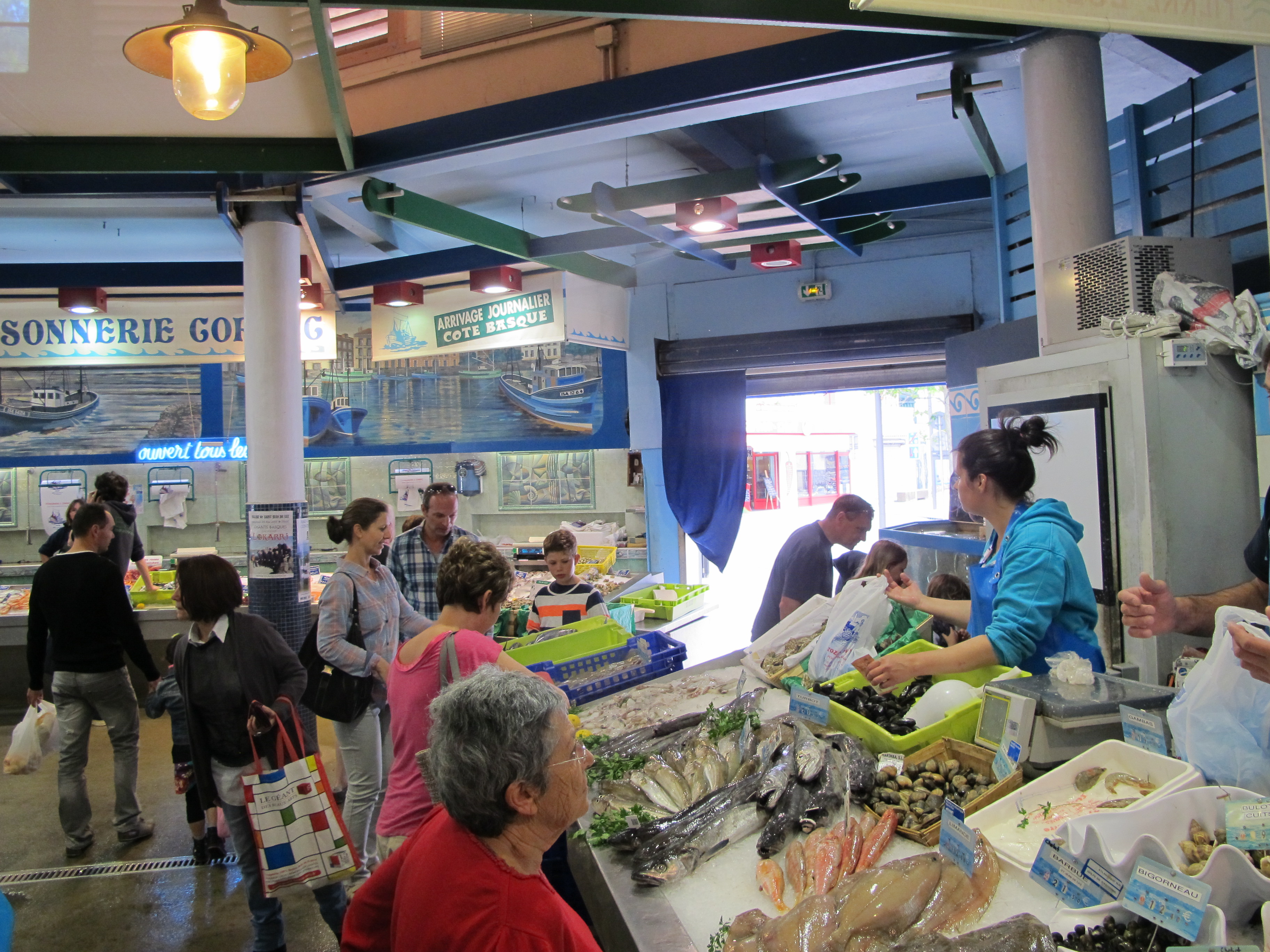 Fish and cheese in the market hall of Saint Jean de Luz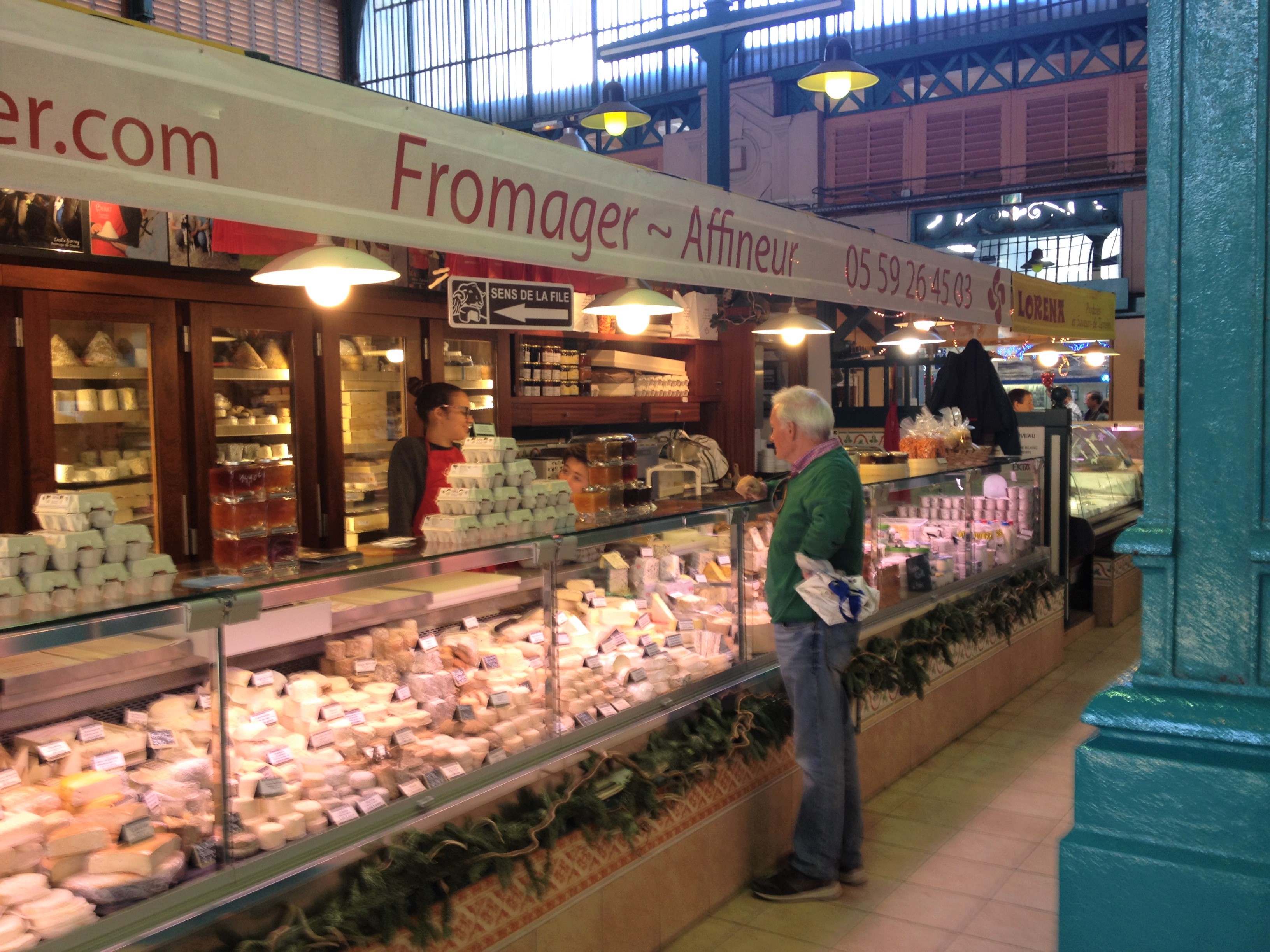 Biarritz und Bayonne
Biarritz as well as Bayonne have nice pedestrian zones which invite to the strolling and also nice market halls.
Tribod in Hendaye
Tribord is Decathlon's water sport and has its development center in the port of Hendaye. One leads there as a kind of outlet and can get everything at reasonable prices, from the bikini over the bodyboard to the neoprene suit. Tribord also has a cafeteria with terrace on the roof of the building with a view to Spain. Lunch is convenient, reasonably priced and delicious. (Qaui de Floride, 8 rue de Orangers 64700 Hendaye).
Quicksilver
The best and most beautiful surf shop far and wide. Quicksilver on the Quicksilver campus in Saint Jean de Luz, you can already see from the motorway just before the exit of Saint Jean de Luz Nord. (162 Rue Belharra, 64500 Saint-Jean-de-Luz).
Col d'Ibardin (Venta Peiyo und weitere)
If you want to buy Spanish wine, cheese or olives you can go to the Col de Ibardin (between Urrugne and Bera de Bidasoa, right on the Spanish border). The ambience is getting used to but the prices for spirits are hard to beat and on the trip to the mountain you have a great view of the coast.
Shopping mall Txingudi:
Another way to buy Spanish wine or cheese, the supermarket has a huge selection. There is also a Decatlohn there. The shopping center of Txingudi is about 5 minutes after the border. The highway exit (A8 direction San Sebastian) to Hondarrabia and its airport, there is already the market as Merkatal signposted. To find clothes or more appealing stores I recommend the shopping center Garbera (see below).
Shopping mall Garbera
To get to Garbera take the A8 towards San Sebastián. The market is also signposted at the motorway exit. As I said the Garbera shopping center has more beautiful clothes stores. The address is Centro Comercial Garbera, Travesía Garbera 1, 20017 San Sebastián.
Shopping in San Sebastián
San Sebastián has many zones for shopping. There are several smaller shopping centers, e.g. La Bretxa and all well-known brands.